dodgy advice
from himmies.com
a website with claws
a website that should give you paws

Welcome to himmies.com! Come on in, take your boots off, warm yourself by the fire, and have a cup of yak-butter tea. Ask a slew of questions—and get some dodgy advice...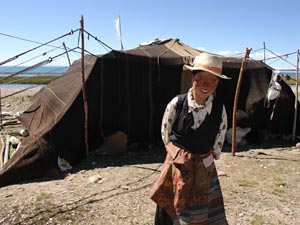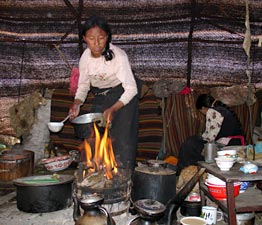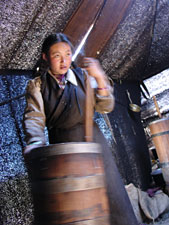 TIBET TRAVEL
frequently asked questions
JUST HOW BAD IS THE YAK-BUTTER TEA?
Hard to stomach—can be a shocker at first, but stay with it—soon you'll be hankering for more salt and rancid yak-butter to top it up. There are two main schools of thought on yak-butter tea. The negative view is that due to a combination of altitude, oily nature, odd smell and taste, it's quite possible yak-butter tea could set your stomach back—as in barfing. The positive view is that, assuming you are acclimatized, yak-butter tea will add to your insulation layers. It contains fatty things that are excellent for countering the cold, and it often has salt, which is good for rehydration. And it contains black tea, which will keep you trekking.
SHOULD I GO TO TIBET, OR JUST STAY HOME?
Well, staying home will be cheaper, but it has been proven that staying on the couch and watching TV for long periods can lead to deep vein thrombosis, where blood clots travel up to the lungs and cause life-threatening situations. At least in Tibet, you will get shaken and jangled around, and the most life-threatening situation will be your driver. As for ethical questions, the Dalai Lama actually encourages people to go to Tibet—and then tell the world what they have seen.

WHY TIBET?
Fantastic other-worldly Himalayan landscapes, with the highest mountains and deepest gorges on earth. Colours that glow. Tibet is host to the world's longest continuous culture—lasting some 20 centuries until 1950 invasion by Chinese troops. Because of its lengthy isolation from the outside world, logic in Tibet developed along totally different path—and quite a bizarre one. Pursuit of money not important in pre-1950 Tibet: the dedication to philosophy and attainment of enlightenment was. You have to like people whose god is not money.
WHEN IS THE BEST TIME TO GO?
No time like the present! Strange things have been happening with the arrival of the railway in Lhasa. Get there before it goes totally Chinese. April to October is the best time to visit, with tourist hordes (mainly Chinese) descending in July and August. By contrast, there are very few tourists in Lhasa in winter (December to February), though it's still possible to get there at this time.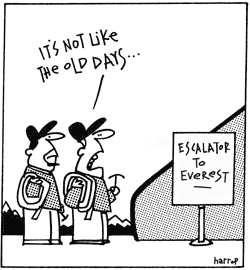 SO HOW DO I GET THERE?
Before March 2008, it was possible to fly from Chengdu into Lhasa on a short tour, jump ship, and branch out and travel to other parts. However, since the eruption of major protest across Tibet in March 2008, travel in Tibet has been highly restricted, with foreigners closely monitored. At times the doors have been slammed shut to foreign guests. At other times, there have been small windows of opportunity and individuals have managed to get around on their own. Keep an ear to the ground: things may change for the better—meaning more freedom of choice, and greater freedom of movement in central Tibet without permits.
The current model is similar to travel in Bhutan—you must arrange your full itinerary outside of Tibet, and are only permitted to travel outside of Lhasa with a guide and Landcruiser at all times. Within Lhasa city, you can get around on your own if you can manage to lose the guide for a while (no Landcruiser needed in Lhasa). Within Lhasa Prefecture, the rules may bend and you might be able to access some sites yourself. Or you might not. Travellers typically enter the TAR in small groups for trips of seven to twenty days, and then exit to Chengdu, Xining, Zhongdian, or Kathmandu, Nepal.
That means a number of suggestions in the Bradt guide to Tibet for independent travel to Tibet are no longer viable, so you will have to read between the lines. However, the guidebook can be used for advance route planning and for choosing hotels and so on. And on the spot in Tibet, the Bradt guide will help make sense of what you see—as official Chinese interpretation is likely to be somewhat skewed.
Chengdu remains the best starting point for individuals to meet others and organise permits and itineraries. Author's special mantra on this topic: All loads lead to Lhasa.
WHAT ARE THE MOST IMPORTANT THINGS TO TAKE?
An open mind, a good sense of humour. A shovel for the propaganda. A big bag of some kind of hard currency. Bring guidebooks and maps—because you won't be able to buy those there, as most non-Chinese printed matter is blocked. Speaking of blocked, a good set of plumbing tools would be an asset for those times when all the drains in your room are blocked. Otherwise, the list of gear you could take is endless. But can you carry it all? Lugging gear around in Tibet is made doubly difficult by the altitude—you will be short of breath through the exertion.
Mantra to keep in mind: Less is more (more or less).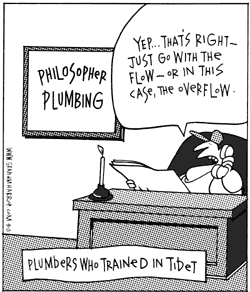 WILL I HAVE PROBLEMS WITH THE ALTITUDE?
Tibet is the highest region on earth—so expect some problems adjusting to the altitude. Altitude sickness is unpredictable—some travellers have no symptoms, others suffer mild cases and get over it, others become quite ill. You should be okay if you take it easy for the first few days and allow your body time to adjust to the new environment. Going into a different environment, like diving, it is best to use the 'buddy system'—to monitor others close to you. If really sick, the short-term solution is to get hold of oxygen. The longer-term solution would be to fly right out of there and retire to sea-level.
WHAT ABOUT LONG-DISTANCE COMMUNICATION?
Ha, the days of Tibet's isolation are long gone with Chinese satellite TV, Internet, and cellphones. Staying in touch from the wilds of Tibet presents little problem: you can even make a call with a cell from Everest basecamp. A cellphone using a SIM card can be set up in 20 minutes in Lhasa. The problems with communications in Tibet have nothing to do with devices, they are to do with what you say on them. Email accounts have been shut down due to banned topics being spoken about. Tourists have been arrested for sending faxes with the wrong kind of news on them. Conversely, incoming radio news is routinely jammed, as are non-Chinese satellite broadcasts.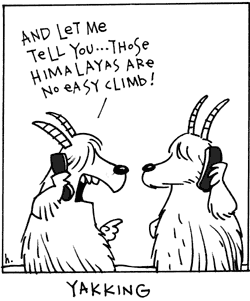 HOW ABOUT THE CHINESE IN TIBET? WILL I HAVE TROUBLE WITH THE AUTHORITIES?
Chinese in Tibet are very tight-lipped. They don't mix it up much. Bit of a fortress mentality. Fort Gyantse. Fort Shigatse. Fort Tsedang. Fort Bayi. Military all over, and lots of CCTV, cellphones and concrete and white tiling to keep Chinese settlers happy. The main imports into Tibet from mainland China are karaoke bars, cheap Chinese beer, huge cellphone company billboards, broads from Sichuan, fake palm trees, military garrisons, prison cells, and propaganda—big time. About authorities: best advice is to avoid them. Next best advice: if encountering them, confuse them.
Mantra for the road: When in doubt, split!
WHERE CAN I FIND OLDER, MORE TRADITIONAL TIBET?
Good places to go looking are Samye, Tidrom and Gyantse, which have loads of Tibetan character and preserve the old Tibetan architecture and town planning to a great degree (though mostly reconstructed at Samye). All three places are within an easy day's drive by Landcruiser from Lhasa. Spiritual Tibet is much harder to find because the Tibetan tradition depends on great teachers, who are few and far between in Tibet. You would have to go further afield to settlements in India, for instance, to find the Tibetan masters.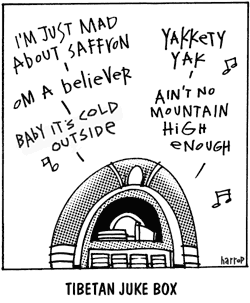 breaking the ice
USEFUL GESTURES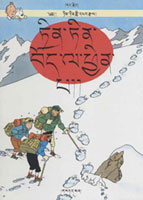 Tibetans respond to some gestures common in the West, but others can throw you for a loop. In old Tibet, a respectful form of humble greeting was to extrude the tongue (which had better be pink, because the tongue of an evil person was reckoned to be brown or black). The gesture is still used in remote parts of Tibet. Belgian cartoonist Herge has some fun with this: when confronted by cheeky Tibetans poking out their tongues at him, Captain Haddock in the comic Tintin in Tibet responds with rude hand gestures. Once you get started on gestures, it's easy to build a repertoire for repeat situations: pointing vigorously to your watch or a camera, for instance, to get a certain message across.

APPROVAL, OR NOT
Good yagodu!
Fist with thumb up, indicating positive approval, also signals 'okay'. yapodu!
gucci gucci! Two thumbs up (jiggled up and down) is a begging gesture, demanding money or otherwise


Bad yapo mindu!
Fist with little finger down—applied to things or people or concepts ('what you are doing is bad'). The little finger held to edge of eye indicates 'evil eye'.

To see all 16 gestures, consult Tibet: the Bradt Travel Guide, 3rd edition, 2012
GUIDEBOOK UPDATES
Contrary to appearances, guidebooks are not written in stone. They are gooey, formless, shapeless, murky packages that need constant updating and correction on the road. The author can't be everywhere at once, in all time zones, so he relies on a network of other travellers—which means you. What kind of material is the author looking for?
detailed map data, or corrected map data. Maps are invaluable for travellers—if you have map information that would be useful to others, email it. You can use a digital camera as photocopier and attach to email.
seen a yeti? Got a hairy tale? Maybe you've been subjected to a particularly vile yak dish and want to rant about it. See the travellers' tales section of this website for some write-ups. Shorter is better—up to 800 words or so (if it really was a yeti, better make that 2,000 minimum).
email the author
himmies757 (at) gmail.com