Eccentric Explorers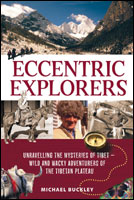 Unravelling the Mysteries of Tibet —
Wild and Wacky Adventurers of the Tibetan Plateau
Order online from Chapters/Indigo
also via www.itmb.com
and www.amazon.com
Softcover, 400 pages, 120 illustrations
ebook version:
Eccentric Explorers is available for download as an ebook under several platforms, including Apple's iBooks and Amazon Kindle.
*Winner in the Biography category of the National Indie Excellence Awards (USA, 2009)
Get in the saddle for a riproaring ride as you follow in the tracks of ten eccentric explorers—each on a quest to unlock the secrets of reclusive Tibet. Are they nuts? Are they crackers? You bet. Among them you will find:
mad Yorkshireman Maurice Wilson, who set his sights on climbing Everest—and to speed things up, decided to try and crashland a biplane on the lower slopes…
secret agent Eric 'the Hatter' Bailey, who shot his way through Tibet—but who could be easily distracted—in the most life-threatening of situations—by the sighting of a new butterfly species…
the indomitable Alexandra David-Neel, an ex-opera singer who—when cornered by Tibetan bandits—let loose such a blood-curdling string of curses, they begged her to stop—fearing she was a wrathful demon
Bravo Michael Buckley. I have just re-read Eccentric Explorers and admire the research, writing, and craziness of the characters portrayed in this book. Outstanding chapters on Maurice Wilson, Joseph Rock, and Alexandra David-Neel. Plus many more. If you have an interest in the Tibetan Plateau, wacky characters, or exploration, this book will rock your world. Great job Michael, and thank you for bringing this fantastic book into the world.
—TOR TORKILDSON, editor of The Pilgrimage Chronicles + The Walkabout Chronicles
This book is a treasure-trove of tales from a far-away place, and an era erased by the shifting sands of time—and by Chinese invasion. Drawing from his own mad journeys in Tibet, Buckley brings out the best of both the majestic Tibetans and the Western explorers portrayed.
—PAT MORROW, first to climb the Seven Summits (Carstensz Pyramid variation), and veteran of six expeditions to the wilds of Tibet
Explorers are an odd bunch. It comes with the territory. Eccentric Explorers gives readers a captivating chance to walk in the shoes of ten intrepid adventurers, to share their exciting exploits—and their obsessions. Join their journey. Lace up your boots and realize your own inner Indiana Jones.
—BRANDON WILSON, a member of The Explorers Club and author of Yak Butter Blues, recounting his 1,000-km trek across Tibet with his wife and a horse named Sadhu
Tibet has always been a place for Western fantasies to flourish and it has attracted some of the most eccentric of explorers to its high mountains, deep valleys, remote monasteries and fabled cities. Michael Buckley, whose own adventures in Tibet include playing a British imperialist in a Chinese propaganda film, presents the extraordinary stories of ten of the most adventurous of these explorers in this well-researched and wonderfully entertaining book—which roams through the highways and byways of Tibet and its people, past and present.
—ALEX McKAY, International Institute for Asian Studies, Leiden, The Netherlands
MYSTERY QUESTIONS (in slideshow below)
To read puzzle questions, click on the photo being viewed and questions should show up in a new window. You can then resume the slideshow.