Shangri-La: A Travel Guide to the Himalayan Dream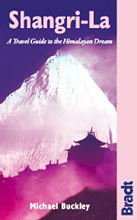 208 pages plus 48pp colour photos
Shangri-La is one of the most evocative myths of our time — so powerful that it has entered the dictionary as a synonym for paradise. As myths go, it is a young one: Shangri-La made its debut with the 1933 publication of British author James Hilton's novel, Lost Horizon. No sooner was Shangri-La created by Hilton than a host of places staked claims to being the real location that inspired the book.
This guide to the mythical site of Shangri-La is rooted in the glorious reality of the Himalaya, encompassing parts of southwest China, Tibet, Bhutan, Nepal, Sikkim and Ladakh. It forms a concise guide to the most remote areas of the region, with a focus on major mountain peaks, and some well-chosen treks in each area. Practical information and maps will ensure that visitors can make the most of their trip to this other-worldly destination, while armchair readers can browse and dream…
First and only guide on the market blending exploration of the myth with practical advice on visiting the contested sites
Focus on the region's legendary sacred peaks and monasteries, including acclimatisation hikes, as well as tougher treks
Provides background on oddball adventurers and seekers of lost kingdoms of the Himalaya
Sidebars on esoteric topics like Tracking the Yeti (Bhutan) and Crazy about Hockey (Ladakh)
Illustrated wildlife appendix — a concise field guide to the most unusual animals
Extended colour photo sections to illustrate the concept of Shangri-La
MYTHBUSTERS
ARE these FACT or MYTH?
in 2002, Beijing officially recognised five counties in southwest China as being the actual location of Shangri-La
a national park to the east of Bhutan is set aside for yetis
bar-headed geese can traverse Himalayan peaks, flying at over 8,000 metres and enduring temperatures down to minus 70° Celsius
the Holy Grail of Tibet is a parasitic fungus that takes over a moth—and is highly valued for its medicinal properties
the book The Five Tibetans describes secret exercises smuggled out from a Tibetan monastery—and guaranteed to make you look 20 years younger
in the 1920s, monks at Rongbuk Monastery said that any attempt to summit Everest would disturb the resident goddess, who would surely cast the climbers down
in 1933, the New York Times reported the death of a Chinese herbalist at the amazing age of 256
FIND OUT more about the weird and wonderful Tibetan world in
Shangri-La:

A Travel Guide to the Himalayan Dream