Tibet, Disrupted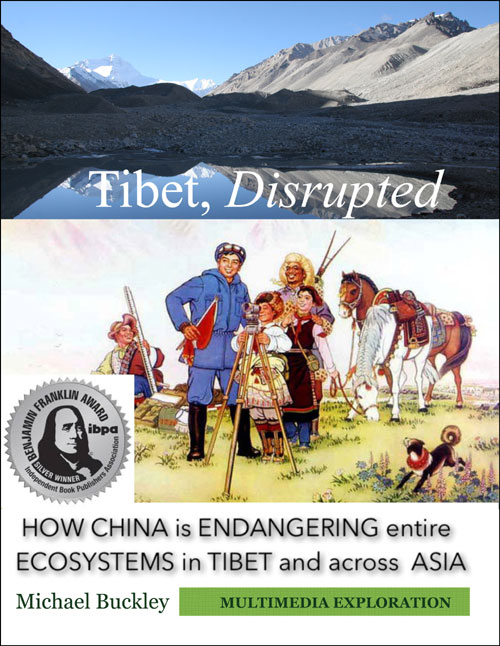 This digital photobook is only available on Apple iBooks because it uses their template. First published in 2016.
Tibet, Disrupted is enhanced with the addition of Tibetan songs at chapter headings. Also features NASA satellite images and customized maps, plus live links and video links to delve further.
AWARDS

Tibet, Disrupted is Winner of the Silver Award
Enhanced eBook category
Benjamin Franklin Digital Book Awards
California, USA, 2017
REVIEWS
Tibet, Disrupted
"Powerful and inspirational: This is a precarious situation perched on a precipice, and Buckley has managed to articulate it with strength, dignity and profundity. This is a courageous endeavour. I hope the book does very well, and more pertinently, has an impact on the world's collective consciousness."
—Siddharth Dasgupta, author of Letters from an Indian Summer
"Tibetophile Michael Buckley has outdone himself with the eBook Tibet, Disrupted. This 330-page-turning litany of environmental and social crimes being committed by China on its own people, and against the victims in its downstream neighbouring countries, is both exhaustive, and exhausting to explore. Buckley's work is on par with that of writers Naomi Klein, Wade Davis and other socio/environmental luminaries who are particularly good at looking at the "big-picture" topics that beset our modern world.
"The photo-rich eBook is a knockout on my big HD Apple computer screen. Buckley encourages geography professors to screen the book for discussion, and gives lecturers permission to do just that in the book. One of the burning questions Buckley asks is, "Who will take the climate/environmental refugees? The millions that will be displaced by reduced flows caused by scores of Chinese megadams built on five major rivers sourced in Tibet?" These megadams will impact food security bigtime because they block fish migration and the flow of silt, essential for agriculture."
—Pat Morrow, first mountaineer to climb the highest summits on all seven continents; author of Beyond Everest: Quest for the Seven Summits
"This is a major book, the book the world has been waiting for, about the ethnocide and ecocide of one of the most magical places and most spiritually developed peoples on the planet, a heart-breaking tragedy that has been going on relentlessly and largely unknown and unreported in the West since China forcibly annexed Tibet in 1950. Since Vanity Fair published my Letter From Lhasa: The Silent Killing of Tibet in l991, the devastation has been accelerating with the completion of the railway from Golmud to Lhasa, the damming of its rivers on whose water India depends, the persecution of followers of the Dalai Lama, the destruction of ancient monasteries and their penetration by Chinese informants, resistance to which—even by nuns immolating themselves—Tibetans are powerless to stop.
"Tibet, Disrupted covers every aspect of this ongoing desecration, the unspeakable horrors that are happening behind the Himalayas. There was a wave of outrage and anguish in the l990s that resulted in five major Hollywood movies, but since then the West has turned its back on the wasting of Tibet. We must all get involved in the struggle to save this incomparable and defenceless land, its rivers, wildlife, and the extraordinary Buddhist culture that evolved there and has so much to teach us all about compassion. The first thing to do is to get this book—one of the most important exposés and most compelling pieces of photojournalism of our time—and become informed."
—Alex Shoumatoff, author of The World is Burning and other books investigating serious environmental crimes. He created the online site DispatchesFromTheVanishingWorld.com to raise consciousness about the world's fast-disappearing bio-cultural diversity. Among those profiled are Tibetans.